REVIEW OF SANJU:LETHALLY ENTERTAINING!
Cast: Ranbir Kapoor, Anushka Sharma, Sonam Kapoor, Manisha Koirala, Dia Mirza, Vicky Kaushal & Paresh Rawal
Director: Rajkumar Hirani
What's it about:
Sanju is the story of Bollywood's most fascinating Khalnayak Sanjay Dutt and his tryst with his own demons that played out dramatically in his personal and public life.
Review:
He is the bad boy everyone loved to hate. Much like his onscreen persona Sanjay Dutt's flamboyance in personal life has always kept him in the news and for most part, for all the wrong reasons.
It's a role of a lifetime with perfect fodder for celluloid – something that actor Ranbir Kapoor and director Rajkumar Hirani bring together for an entertaining biopic that was screaming to be told.
Ranbir in & as Sanju
Few minutes into the film and you will forget that the actor playing Sanjay isn't the man himself. Ranbir not only gets into the skin of the character but also relives the superstar's mostly tumultuous past with a high degree of honesty.
Rest of the cast rallies around Ranbir and a few come close. With less scenes but a surreal screen presence Manisha Koirala is a surprise package as the late Nargis Dutt. She makes a solid comeback with restrain and poise that leave us wanting for more.
Paresh Rawal as Sunil Dutt is at his usual best but the one who comes out tops is Vicky Kaushal as Sanjay's unrelenting friend from New York. His on-off Gujarati accent notwithstanding, every expression and scene is worth it.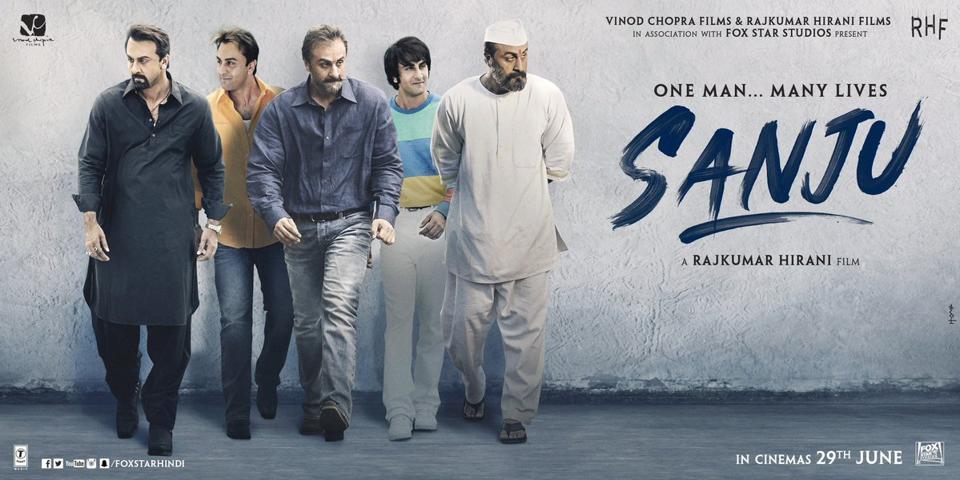 The women in Sanju's life including Dia Mirza, Sonam Kapoor Karishma Tanna and Anushka Sharma come across as incidental rather than value addition. I wonder what is with Anushka's strange hairdos in Rajkumar Hirani films. While it was the unkempt pixie cut in PK, here it's the ballooning perms.
Twisted to perfection
Sanju's narrative is smart – filled with turns and some convenient twists but writer-director Raju Hirani lets the bigger picture flow. While there is no attempt to show Sanju as heroic but there is an undercurrent of making some crucial incidents look circumstantial while also highlighting that the star has been a victim of his own choices.
However, there were parts of his life that found no mention in the film like his marriage with actress Richa Sharma and their children and his affairs with the leading actresses of his time.
Here's a spoiler free review of this season's most awaited biopic 'Sanju' starring Ranbir Kapoor Anushka Sharma Sonam Kapoor Manisha Koirala Vickykaushal Paresh Rawal Dia Mirza and directed by Rajkumar HiraniLet us know your comments about the review and the film 🙂

Posted by 89.1 Radio 4 FM on Friday, June 29, 2018
In the film's narrative, Sanju's reel life takes a backseat but his real life escapades more than make up for a deliciously juicy biopic.
Rajkumar Hirani knows how to make an entertaining film. In the last 15 years, this is his fifth directorial and first biopic and he seems to have done well prioritizing Sanjay Dutt's vast history of checks and balances with his family, friends and the law.
I am going with 4 stars for Sanju with this recommendation – watch Sanju if you love Sanjay Dutt and twice if you hate him!
Review by Ronak Kotecha