Fanney Khan: Star studded setback!
Cast: Anil Kapoor, Aishwarya Rai Bachchan, Rajkummar Rao
Director: Atul Manjrekar
What's it about:
A middle class man dreams big. But there are existential crises that keep bogging him down. However, he will do whatever it takes to see his daughter become a superstar singer.
Review:
He is a man on a mission. A mission to see his daughter with weighty issues strike it big in the world of music. Anil Kapoor plays this 50-year-old middle class man whose talent has been only able to regale the junta in his nukkad, but he doesn't want this to be the world of his daughter.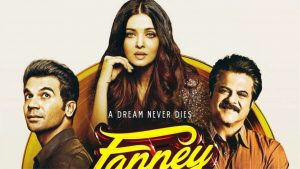 His daughter is debutante Pihu Sand. For her first film she is a bundle of talent that makes an impact. So does Divya Dutta as her mother who never fails to impress, but the one who steals the show is Anil Kapoor with his honest performance despite a weak script.
Sadly, the ones who are hurt the most with Fanney Khan's wobbly narrative and characterization are stars like Aishwarya Rai Bachchan and Rajkummar Yadav. Both of them get a raw deal in terms of writing. Their characters never really get to perform fully although there is quite a bit of potential of what could have been great chemistry and comedy between the two.
Another, sore point of Fanney Khan is its forgettable music despite being a musical.  Some of the songs work well in the narrative but as standalone tracks, they are no chartbusters. Film's second half comes undone with its various loopholes and the story of kidnapping a superstar gets caught in the web of logicless execution. It finally culminates into a climax that seems more ridiculous than believable.
Director Atul Manjrekar begins well but somewhere loses the path it seems. There are many wasted opportunities and actors in Fanney Khan that cannot be ignored.
I am going with 2.5 stars
Fanney Khan