REVIEW OF RAAZI: UNDERCOVER THRILLER!
Cast: Alia Bhatt, Vicky Kaushal, Shishir Sharma, Jaideep Ahlawat & Rajit Kapoor
Director: Meghna Gulzar
What's it about:
A 20-year-old girl from Delhi University is suddenly thrown into a planned espionage mission amidst growing tensions between two countries and an impending war.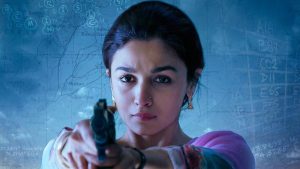 Review: 
From a girl-next-door to the spy-next-door – Alia Bhatt's transition in 'Raazi' is almost as phenomenal as her personal growth. From being a student of the glossy KJO school of candy floss flicks to the realistic and understated cinema of Meghna Gulzar.
Ironically, this one too is a Dharma production but it bears a distinct stamp of the talented Meghna, who also co-writes the screenplay from Harrinder Sikka's novel 'Calling Sehmat'.
Meghna gets to the point almost immediately without dwelling too much time into Sehmat's past. What follows is a thrilling ride of espionage that drifts between the palatial army home of Pakistan's Brigadier Syed (Shishir Sharma) and the streets of Pakistan.
There are enough and more 'OMG…what will happen next?' moments but a sense of predictability and an all too convenient narrative spoils the fun to some extent.
While the cross country tension is palpable in every scene, there is not one light moment, like the director never lets her guard down, much like 'Sehmat' herself.
However, Alia's vulnerability and effortless performance makes up for it. What also works is Meghna's no-nonsense execution sans any melodrama and over-the-top patriotism. Instead, she gives her characters realistic yet powerful dialogues.
Vicky Kaushal gets precious little to shine over Alia who fills practically every frame. Rest of the supporting cast like Shishir Sharma, Jaideep Ahlawat, and Rajit Kapoor play well within the plot.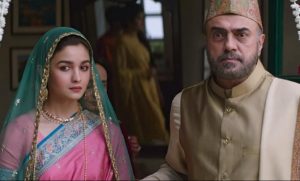 Throughout the film, Meghna doesn't resort to bias against any one country nor is there unnecessary bashing of people or politics from either side.
Shankar-Ehsaan-Loy's music set on the Gulzaar Saab's soulful lyrics is equally soul-stirring especially 'Ae Watan' and the 'Bidaai' song.
All in all, 'Raazi' is a thoughtful espionage thriller sensitively told. If you like understated films that do more and talk less, Raazi is for you.
I am going with 3 stars.
Review by Ronak Kotecha