PADMAAVAT – A RIOT OF ROYAL RAZZMATAZZ!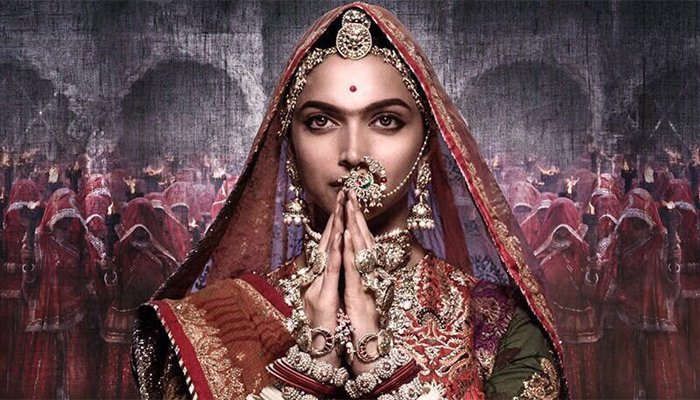 Padmaavat****
Starring: Shahid Kapoor, Deepika Padukone, Ranveer Singh
Director: Sanjay Leela Bhansali
Review by Ronak Kotecha
What's it about?
Based on the Indian Sufi poet Malik Muhammad Jayasi's epic poem Padmavat, the film is essentially a war between Allaudin Khilji's lust for absolute power that puts him crosshairs with the Rajputs of Chittorgarh.
Review
So much hype, so much controversy, and so much ado. Is it all worth it? I bet that's the first question on your mind.
My one-word answer to that is a resounding YES.
This is the Sanjay Leela Bhansali magnum opus. A grand story mounted on a grand scale that is symbolized by elaborate sets and intricate costumes plus the accessories. Good looking actors (never mind the filters) giving their best shot in each scene and unapologetically filmy drama that gives you the paisa vasool feeling – 'Padmaavat' has it all, packed in close to 3 hours, no less.
To say that Padmaavat isn't indulgent would be wrong. To say that it's flawless would also be wrong. The film has its demons. The VFX doesn't look real in several key scenes and whenever you start to think of logic, an unabashed Rajput pride is lobbed at you. Musically, too 'Padmaavat' is weaker than SLB's previous outings except for the Ghoomar song, rest is more of an accessory to the characters' splendor.
But all of this is a minor bump in the entertaining ride of a historical legend that Sanjay Leela Bhansali takes you on, replete with the richness of royal egos and human emotions too.  There's actually never a dull moment, no place for boredom.
This is the Bollywood epic of the year.
I am going with 4 stars.