Review of Soorma: More docu, less drama!
Cast: Diljit Dosanjh, Taapsee Pannu & Angad Bedi
Director: Shaad Ali
What's it about:
'Soorma' is a biopic of Sandeep Singh – one of the greatest hockey legends of our time. Director Shaad Ali tells us what happened in his short yet eventful career and personal life.
Review:
It's raining biopics in Bollywood this year. First Padman, then Sanju and now Soorma starring Diljit Dosanjh and Taapsee Pannu.
In the last few years, the bar for sports films in Bollywood has hit a new high. What with films like Chak De India, Sultan and Dangal. Soorma is definitely on the same lines but doesn't quite have the same potential.
But let's start with where Soorma scores. Definitely Diljit – after a glimpse of his acting skills, he now seems to have fully arrived with his film. He plays his role with full conviction. Another winner in Soorma is Angad Bedi who plays the role of Diljit's elder brother.
Taapsee Pannu does deliver the goods, but not without slowing down the pace of the film.  I am not sure if her character is real or fictional.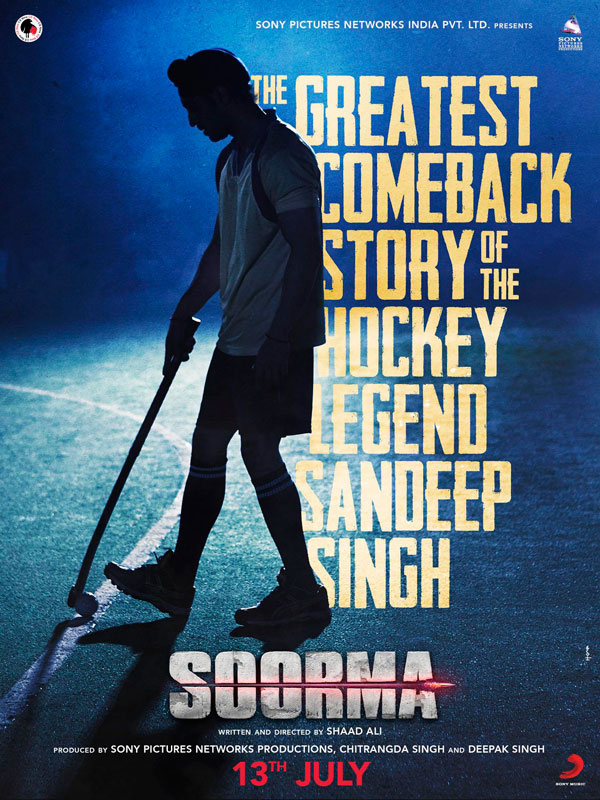 Soorma's music is situational but doesn't have what it takes to be retained beyond the film despite having stalwarts like Shankar Ehsaan Loy & Gulzar onboard.
As a sports biopic, Soorma has many scenes of the game of Hockey but none of the scenes are moving enough to bring you to the edge of your seat and watch in awe. In that sense hockey comes across more as incidental than entertaining.
Director and writer Shaad Ali chooses a straight cut route to tell the story of Sandeep Singh without bothering to add the theatrics of a true blue grand scale Bollywood outing. So if you are happy with knowing what happened in the last 15 years of Sandeep Singh's life as it did, Soorma is for you. It has the inspiration and sportsmanship of the game but not the drama of a Bollywood magnum-opus.
I am going with 3 stars.