RAID****
Starring: Ajay Devgn, Saurabh Shukla, Ileana D'Cruz
Director: Raj Kumar Gupta
What's it about?
A historic Income Tax raid by an upright IT officer who will do whatever it takes to unearth the ill-gotten wealth of a powerful politician. But will he come out unscathed?
Review
Set in 1981, 'Raid' is based on true events, peppered with enough cinematic liberties that makes it a delectable fare of a clash between a fearless IT officer Amay Patnaik (Ajay Devgn) and the dreaded 'Tauji' (Saurabh Shukla).
To say that Ajay Devgn is apt for this role, would be a gross understatement. Hi no-nonsense dialogue delivery, upright posture, fitness and attitude are tailor made for this role. Meanwhile, his onscreen contender Saurabh Shukkla puts up a befitting show of power, arrogance and restrain.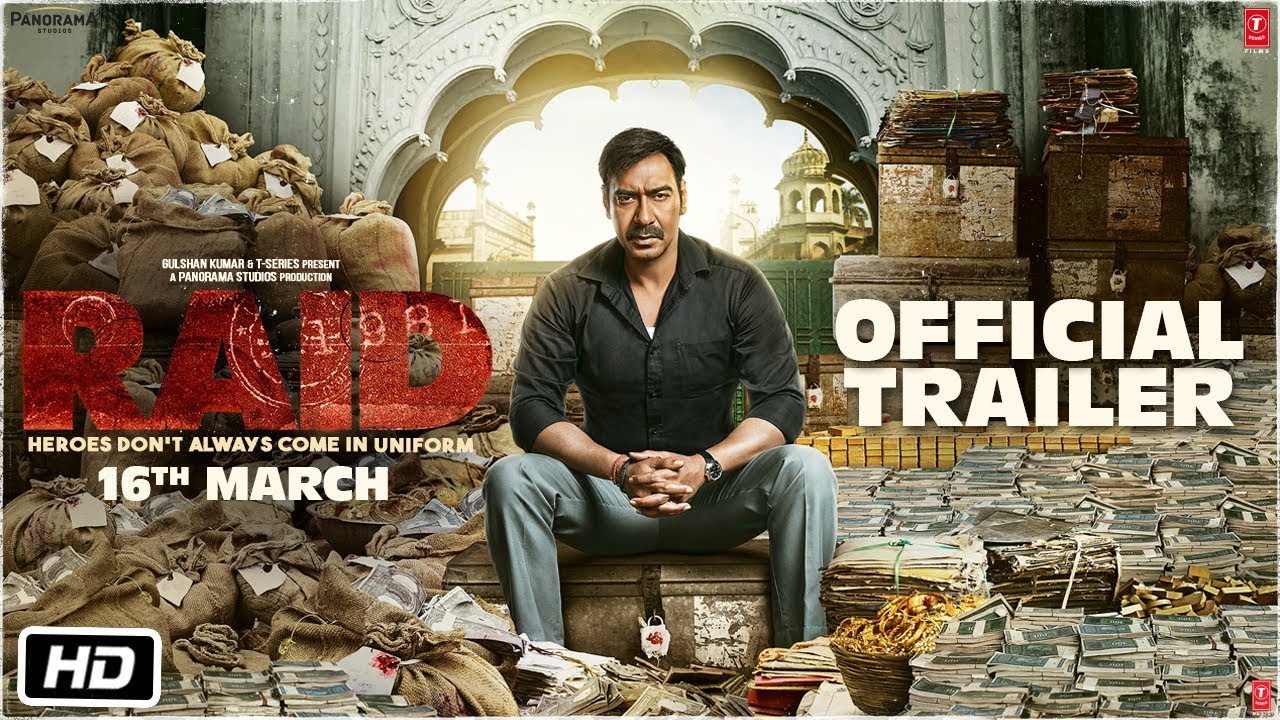 Heroes
Another of 'Raid's hero is its production design by Rita Ghosh. The palatial Lucknowimansion of 'Tauji' where much of the action takes place with all of its props and people together build and take the story forward with a pace that is quite a rarity in most Hindi films.
Screenplay writer Ritesh Shah and Editor Bodhaditya Banerjee ensure that the first half starts with a bang and keeps you on the edge with a taxing urgency. Second half is comparatively slower but minor twists and turns will keep you adequately invested.
Musically, the film doesn't have much to offer obviously because of its serious subject but the two hit songs have been somehow accommodated without sacrificing the pace. However, composer Amit Trivedi more than makes up for the music in background score, which is just right to build enough tension and anticipation.
Riteish Shah's dialogues too are well balanced – neither too filmy nor too monotonous.
And finally it's the smart direction of Raj Kumar Gupta that cohesively brings all of this together. After directing highly urban stories such as 'Aamir', 'No One Killed Jessica' and 'Ghanchakkar', Gupta is refreshingly brilliant in directing a rustic political plot highlighting the historic feats of the unsung heroes of India's Income Tax department.
'Raid' has flavours of Neeraj Pandey/Prakash Jha brand of cinema but dare I say, this one is better than a few of their last films.
My tax-free advice – raid the theatres at the earliest with your family in tow. This is value for money.
I am going with 4 stars (VAT included;)
 Ronak Kotecha