MOVIE REVIEW 102 NOT OUT
102 NOT OUT: SCORES WELL!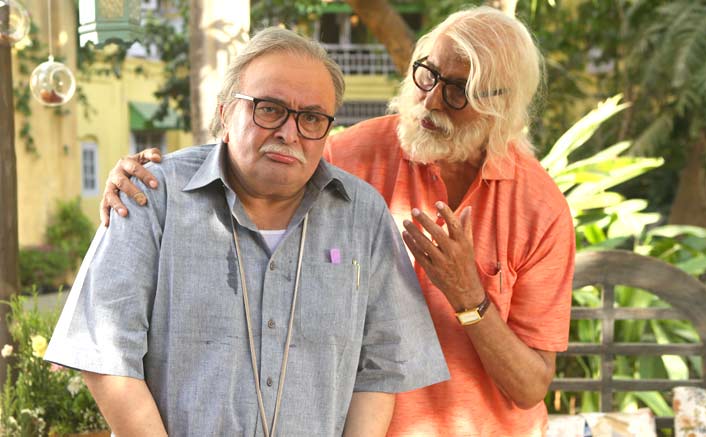 Cast: Amitabh Bachchan, Rishi Kapoor
Director: Umesh Shukla
What's it about:
A 102-year-old father wants to teach his 75-year-old son a lesson in living life to the fullest by exhorting him to overcome his past and embrace the present called today.
Review:
Are we simply adding years to life or life to the years we live is often the existential question we ask ourselves? Writer Saumya Joshi's 102 NOT OUT takes this question rather seriously and jet sets into a quirky, irreverent dramedy from the word go.
Director Umesh Shukla manages a casting coup of sorts bringing two of industry's living legends together after 27 years. While the film is based on a successful Gujarati play by Saumya Joshi with the same name, I cannot think of any two actors better prepared to play the roles of a 102-year-old Dattatraya Vakharaia and a 75-year-old Babulal Vakharia than Amitabh Bachchan and Rishi Kapoor respectively.
As a story 102 NOT OUT is simple and unfolds without much ado or layering. The narrative is straightforward minus any flashbacks of a long life our two characters have lived except for references in their dialogues - much like a Gujarati play itself.
To that effect, the director keeps it real but much less visual - unlike the regular Bollywood format. Sure he runs a risk of his screenplay being a little too verbose and speech-heavy, especially because dialogues and plots that unfold are more realistic, less dramatic and not laugh out loud funny.
But the earnesty of performances of his 2 main characters makes up for such a no-frills execution. Rishi Kapoor steals the show with his effortless restrain while Bachchan manages to crack yet another tough cookie of a role without going overboard. Sure his Gujarati accent slips quite a few times but then again - he plays 102 going on 26.
102 NOT OUT could have gone out of hand if it hadn't been for its crisp storytelling and measured theatrics. Film's star editor Bodhaditya Banerjee once again shows how less is more wrapping it up into the climax that makes it worth our time.
If you're a fan of realism mixed with some harmless fun brought to you by two adorable senior citizens in the lively city of Mumbai, 102 NOT OUT might just leave you bowled over.
For me, it scores 3 out of 5.
- Ronak Kotecha