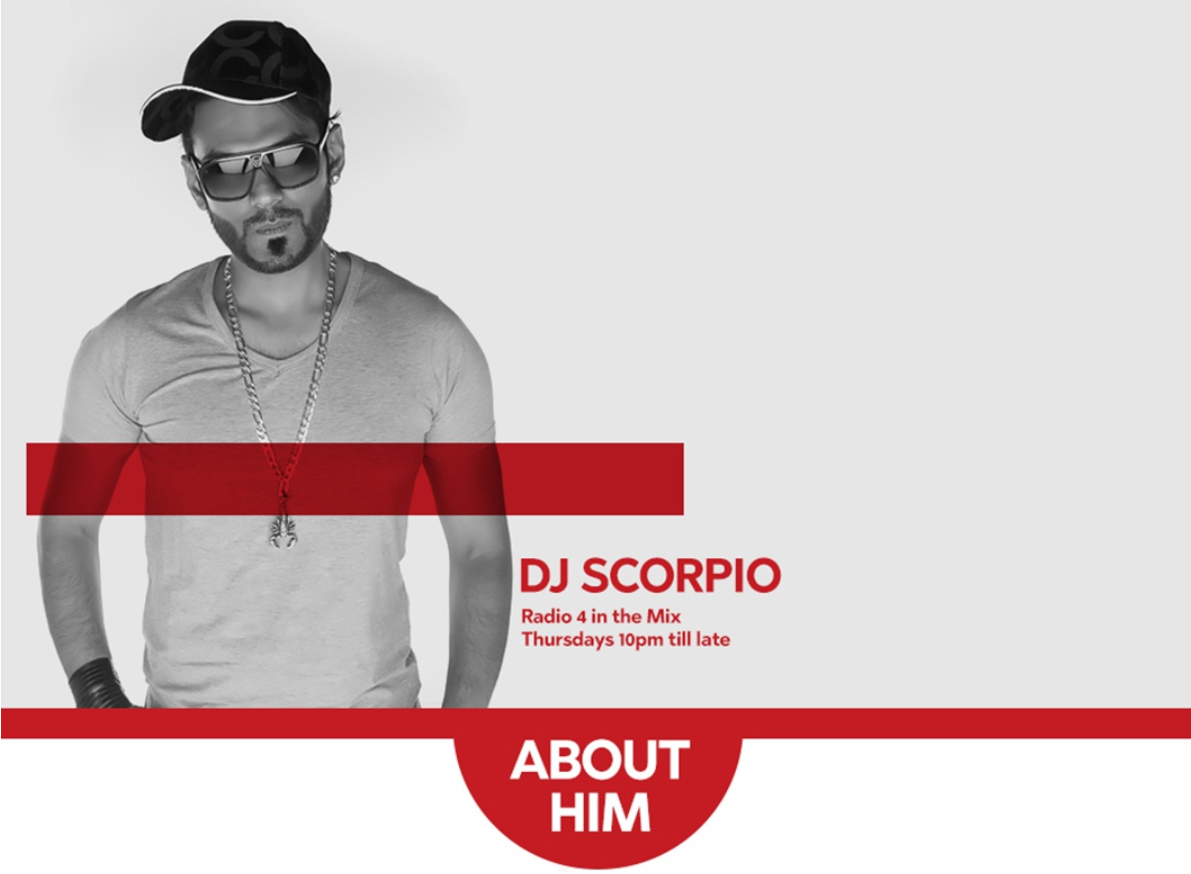 DJ Scorpio
Beginning his career in the 90's, DJ Scorpio has spun in some of the biggest clubs in Dubai including DAGAMA - Century village, Cavali, People by Crystal ,Cirque le Soir, Sublime lounge & Pacha.
His genre includes, Arabic, Punjabi & Bhangra, Hip-Hop, Reggae, Retro & Bollywood.
He is much loved by club enthusiasts around the world and has played to packed audiences in Prague, Amsterdam, Muscat, Bangkok, New York, Sri lanka and India. Now 15 years later, this guy is still rocking UAE on 89.1 Radio 4
#In3Words: DJ | Innovative | Passionate
#RadioRole: Swaying all the way from the dance floor to the turntables, DJ Scorpio has managed to keep up the oomph factor all the way on #Radio4 every Thursday!
#WhatHeBrings: An optimistic vibe as the weekend approaches, by playing catchy tunes designed to get you smiling and your feet tapping. Click here to know more
#Zodiac Star: My 'DJ' Name says it all.
#MyPersona: A prolific DJ, Remixer and a Music Producer.
#DJingStyle: He has a unique style of mixing tunes according to the mood of the event, which leaves no one complaining.
#StressRelieverTablets:MUSIC
#MusicToMe:  is everything in this world
#FavoritePlaceToChill:  Amsterdam
#FavoriteMovies:
Hollywood: Transporter, Fast & Furious, 21 Jump Street.
Bollywood: Andaz Apna Apna, 3 Idiots & Zindagi Na Milegi Dobara.
#FavoriteCelebrities: Vin Diesel, Jason Statham, Al Pacino & Deepika Padukone,
#BiggestSin: SIN???? I'm too innocent to commit one… LOL!!!